BeagleBoard.org®, a leading developer of open-source hardware platforms, is thrilled to announce the highly anticipated launch of BeagleV® Ahead, an innovative single board computer (SBC) based on TH1520, a quad core 64-bit RISC-V SoC from T-Head. This groundbreaking open-source SBC brings a new level of accessibility, performance, and flexibility to the rapidly growing RISC-V ecosystem.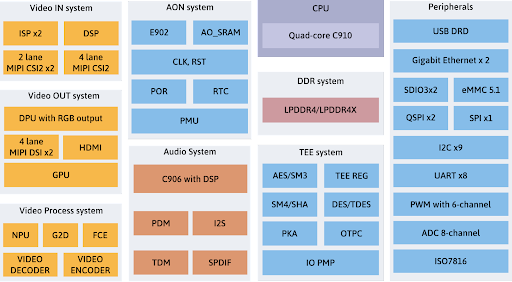 BeagleV® Ahead is set to revolutionize the world of embedded systems and empower developers and enthusiasts worldwide. It represents a significant milestone in the democratization of computer architecture and open-source hardware development. Built around the powerful and energy-efficient RISC-V instruction set architecture (ISA), BeagleV® Ahead offers unparalleled opportunities for developers, hobbyists, and researchers to explore and experiment with RISC-V technology.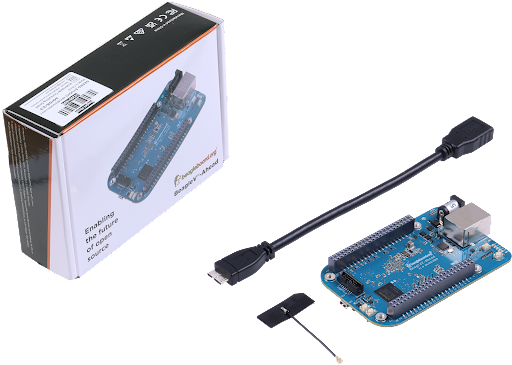 With its compact form factor, robust performance, and versatile I/O interfaces, this SBC is well-suited for a variety of applications, including Internet of Things (IoT) devices, robotics, artificial intelligence (AI), and embedded systems. Some key features and specifications of the BeagleV®-Ahead SBC include:
RISC-V CPU: Alibaba T-Head TH1520 quad-core RISC-V Xuantie C910 (RV64GC) processor, Xuantie C906 audio DSP, low power Xuantie E902 core, 50 GFLOPS Imagination 3D GPU, and 4 TOPS NPU
Storage: 4GB LPDDR4 RAM, 16GB eMMC storage, and microSD expansion slot.
Networking: 2.4GHz/5GHz WiFi, Bluetooth 5.2, and Gigabit Ethernet.
Connectivity: microHDMI, USB3 (5Gbps) microAB (host/device), and Serial debug.
Add-on board expansion: mikroBUS shuttle (UART/I2C/SPI/ADC/PWM/GPIO), 2xCSI, DSI, and BeagleBone compatible 92-pin cape header pins.
Open-Source Design: BeagleV® Ahead follows the principles of open-source hardware, allowing users to access and modify the board's design and firmware, promoting collaboration and innovation within the RISC-V community.
Linux-Compatible: BeagleV® Ahead comes with Yocto installed out of the box with Ubuntu & Fedora working prototypes available, providing users with a familiar and robust development environment.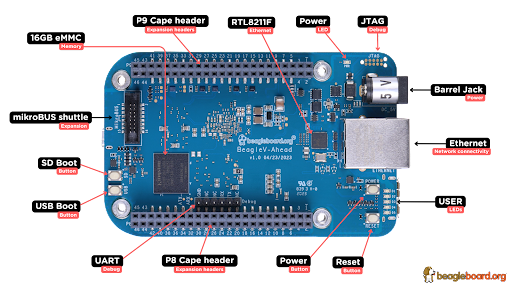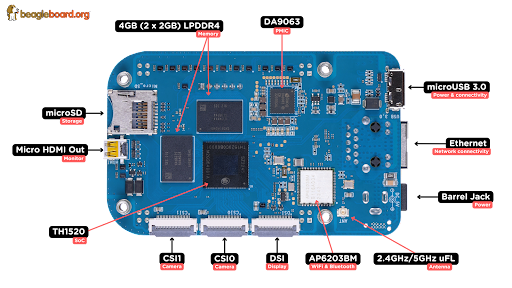 BeagleBoard.org® has a strong track record of developing open-source hardware platforms, and the launch of BeagleV® Ahead reinforces our commitment to fostering innovation and collaboration within the technology community. BeagleV® Ahead empowers developers to explore new possibilities, accelerate their projects, and contribute to the advancement of the RISC-V ecosystem.
"We are extremely excited to introduce BeagleV® Ahead to the world," said Jason Kridner, Co-Founder of BeagleBoard.org®. "RISC-V is rapidly gaining momentum as a transformative technology, and we believe that BeagleV® Ahead will play a crucial role in its widespread adoption. Our goal is to provide a robust, open-source platform that empowers users to unleash their creativity and develop cutting-edge solutions."
"RISC-V is committed to offering our community a diverse array of hardware and software to innovate. We're glad another great board is available to help make RISC-V development more accessible," said Calista Redmond, CEO of RISC-V International. "We've already seen strong adoption of RISC-V in the markets that BeagleBoard.org® is targeting, including the IoT and AI, so we look forward to seeing what developers across the globe create with BeagleV® Ahead."
For more information and to purchase, visit https://beaglev-ahead.org.
About BeagleBoard.org® Foundation:
BeagleBoard.org® Foundation is a non-profit organization focused on developing open-source hardware platforms that foster innovation and collaboration. They have a rich history of creating accessible, versatile, and powerful single board computers, enabling developers, hobbyists, and researchers to bring their ideas to life.