Connections make computing fun, collaborative, distributed, open and easy. BeaglePlay® features a wide selection of sensor and prototyping system connections with the software and the performance features to support them, making development work into play!
ROCHESTER, Mich., March, 8, 2023 /  –
The BeagleBoard.org® Foundation today announces the global availability of BeaglePlay®, the most adaptable open-source performance platform available.   Built on our proven open source Linux approach, BeaglePlay® has a feature set that includes built-in wired and wireless connectivity and ability to connect to a wide selection of sensor and prototyping systems with thousands of options, as well as interfaces and processing performance to support them.
Details at www.beagleplay.org.
Leveraging the Texas Instruments AM625 processor with quad 64-bit Arm® Cortex®-A53 cores,  low-latency microcontroller subsystems, a dedicated Texas Instruments SimpleLink™ CC1352P7 sub-1 GHz and 2.4-GHz wireless MCU, and a Texas Instruments WiLink™ WL1807MOD Wi-Fi® module, new and experienced users can use a wide variety of application libraries and examples from Linux, Zephyr, MicroPython and numerous other open source frameworks to add an endless array of sensors, actuators, indicators and new connectivity options.
BeaglePlay® software features a customized BeagleBoard.org® Debian Linux image with desktop pre-installed along with features such as Wi-Fi® access point and BeagleConnect® gateway functionality supporting quick and flexible development options.
Build the broadest range of performance applications, including:
Industrial Human Machine Interface (HMI)
Retail and POS Automation
3D Point Cloud Systems
Vision Analytics
Vehicle and Drone Infrastructure
3D Reconfigurable Display Systems
Medical Equipment
Smart Buildings and Edge AI
web3 Distributed Infrastructure
BeaglePlay® feature set enables connectivity to the widest selection of sensor and prototyping systems as well as interfaces with memory and processing performance in a low-cost solution:
Expandability
  MikroBus header giving access to hundreds of existing Click sensors and actuators
  Grove connector, by SEEED Studio, a rich, standardized prototyping ecosystem
  SparkFun QWIIC Connect interface provides access to sensors, LCDs, relays and more
Memory and Storage
  2GB (1Gbx16) 1600MHz 3200 Mbps DDR4
  16GB eMMC flash with high-speed interface
  MicroSD card slot
Interfaces
  Wi-Fi® / 2.4G, MIMO/5G, SISO via TI WiLink™ 8  WL1807 module
  Bluetooth® Low-Energy (BLE)/SubG via TI CC1352P7 M4+M0 with BeagleConnect® firmware
  HS-USB Type-C interface for power input and data
  HS-USB Type-A interface
  Gigabit Ethernet with RJ45
  10Mbit single pair Ethernet (SPE) and 5V/250mA power over data line (PoDL) with RJ11
Display and Camera Connectors
  HDMI Type-A supporting up to Full-HD/1080P with 24-bit RGB
  FPC 22 pin 4-Lane MIPI CSI camera connector
  FPC 40 pin OLDI (LVDS) display interface
User Interfaces
  1* User Programmable button, 1* Reset button, 1* Power button
  1* Power indication LED,  5* User LEDs
  4* U.FL Antenna connectors
  2* JTAG 10pin TAG-CONNECT pads for debug connection
  Real Time Clock (RTC) Circuitry with coin cell battery backup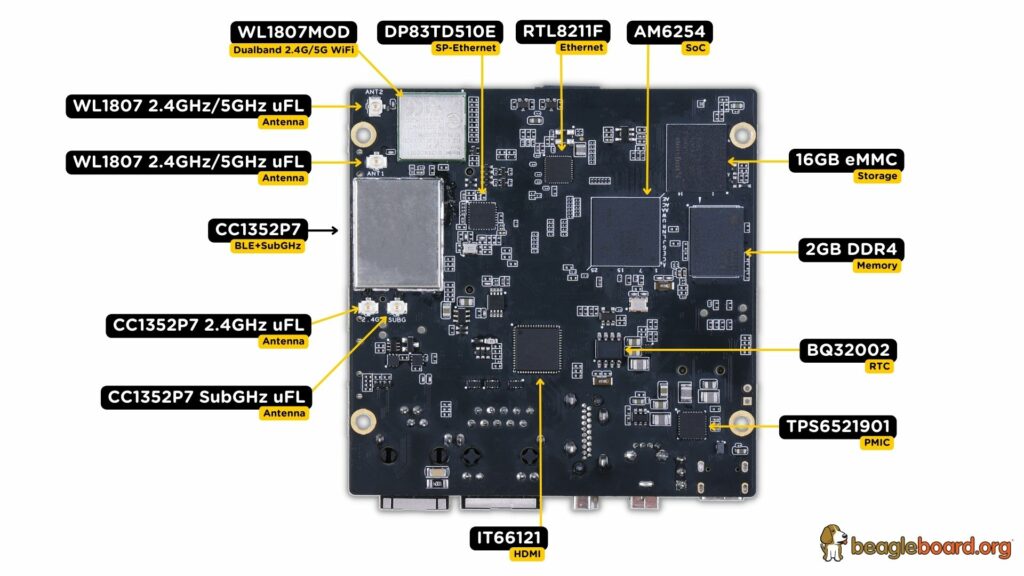 AM6254 Quad 64-bit Arm® Cortex®-A53, 1.4 GHz processor subsystem featuring:
Quad-core Cortex-A53® cluster with

512KB L2 shared cache
Each Core with 32KB L1 DCache and 32KB L1 ICache

Single-core Arm® Cortex®-M4F at up to 400 MHz
Single-core Arm® Cortex®-R5F
3D GPU; up to 2048×1080 @60fps, OpenGL ES 3.1, Vulkan 1.2
Programmable Real-Time Unit Subsystem

Dual-core PRUSS running at 333MHz
Tightly integrated and offering low-latency control of IO pins
Take advantage of BeagleBoard.org and other community software libraries
"BeaglePlay® is an exciting addition to the BeagleBoard.org® family and will enable thousands of applications to be prototyped faster than ever before." stated Christine Long, CEO of the BeagleBoard.org® Foundation. "At this extremely competitive price point and ease of use, more developers' work becomes like play!"
Can be augmented with wireless sensors using BeagleConnect® Freedom, also available now.
For additional information and distributor links to purchase, visit https://beagleplay.org and https://beagleconnect.org.