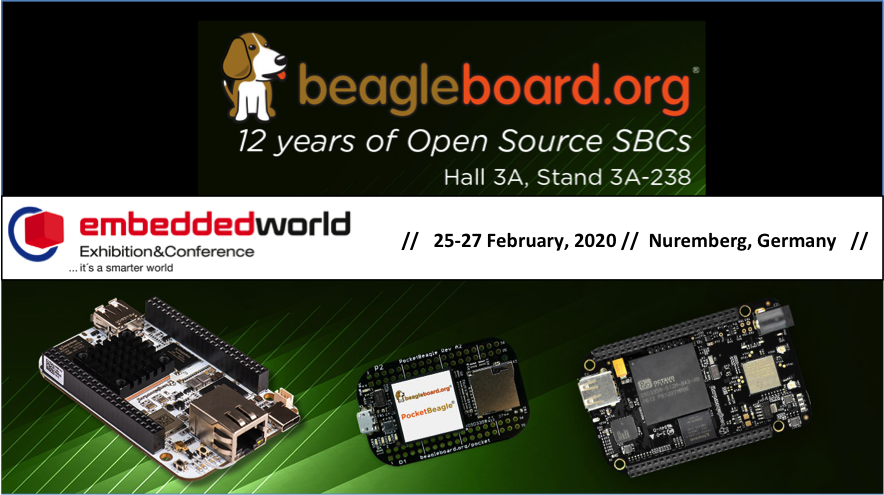 Join BeagleBoard.org® at Embedded World Exhibition and Conference, February 25-27, 2020 in Nuremberg, Germany.
Hands-On BeagleBone® Workshop
Register now for a no-additional-cost Hands-on Workshop: Introduction to Embedded Linux and Heterogeneous Computing Using BeagleBone AI
Thursday, February 27, 2020, 9:30am – 12:30pm.

Description: Deep learning and artificial intelligence will revolutionize industrial automation applications. Applications such as Preventive maintenance, Defect inspection, Process tracking, Quality optimization, Location and path planning are only a few of the examples that need new more powerful and low cost embedded AI devices. However, with these emerging AI applications comes risks in data protection that must be mitigated. A catalyst is needed to facilitate the development of open source processes and community support to break down barriers. Training and deploying a model in an industrial application takes knowledge best sought from community interaction. Bringing data and model collaboration to embedded developers provides greater mitigation of risks. In this class we will have hands on training that explores techniques that not only demystify these challenges but find solutions through collaboration and sharing of practical knowledge. Computers will be provided or bring your own.
Register now – Limited Seats!
Schedule a Meeting with BeagleBoard.org®
Schedule a meeting at the show with Jason Kridner, our Co-founder or Christine Long, our Executive Director. Use the link below to pick a day and time (make sure you choose Central Europe Time). Meetings will be held at Hall 3A / Stand 3A-238.
Schedule meeting at Embedded World
Stop by Booth 3A-238 for Demos
Check out the latest single board computing platforms and capes from BealgeBoard.org®. We have some exciting new projects from the community in Hall 3A / Stand 3A-238 including:
BeagleBone® AI Factory Automation Demo
BeagleBone® Black Rubik's Cube Solver
PocketBeagle® Tiny Low Cost Linux Computer
TechLab Teaching Platform
BeagleBone® Blue Robotics
Stop by and speak to us about your need for Embedded Linux Computing, whether for rapid prototyping for AI, an Industrial project or a small IoT device.
Special product announcements, drawings and prizes.