Little did Stephan von Muehlen, CEO of Poursteady, know five years ago that helping out two engineering friends at a World MakerFaire demo would be the start of a successful, global, commercial coffee equipment company.  Poursteady, is a unique IoT robotic pour-over coffee machine combining precision motion-control with speed and reliability.
After serving over 800 cups of coffee that first weekend, the team's unique way to brew one of the world's favorite beverages was extremely well received. The awards and accolades they won at the MakerFaire encouraged them to apply to an incubator program in New York City, then enter start-up competitions and in the Spring of 2015 launch Poursteady as a commercial product at the SCA (Specialty Coffee Association) show.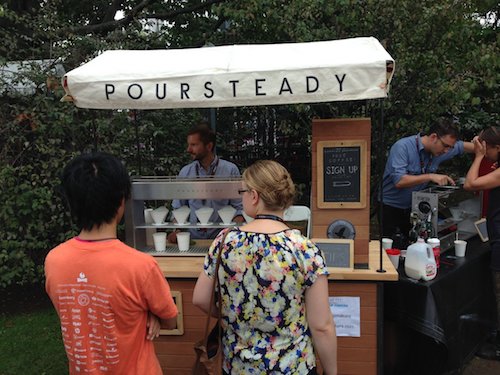 Pour-over is a unique method of brewing coffee that allows a barista to have a more exact control over the process and bring out the unique flavors of each roast.  The method of brewing originated in Japan, requiring the precision and care of an almost ceremonious procedure.  Through a carefully controlled thin stream of water, rather than flooding the filter and letting it drip, the beans gently release their distinctive and bright flavors.
When designing the initial product, the roboticists chose components, from the tracks and motors to the electronics, which would provide an industrial grade solution.  They chose BeagleBone® Black as the heart of the electronics system due to the ease of use of the Linux based software community and it's built-in CANbus interface.
"The CANbus on the BeagleBone® Black allowed us to use a modular architecture for whatever features we wanted to implement.  Each of the buttons, motors and feedback systems of the machine are connected to the CAN Bus." said Stephan.
Through the open source community they were able to leverage solutions that are already on the market used in industrial applications for a very long time.  By using best practices with the BeagleBone® it allowed them to use a control platform with the CANbus and the Linux operating system without having to start from scratch and spend as much on R&D
"We built this machine, took it to market and it's proven itself in the field to be incredibly reliable because we are using hardware solutions and platforms that have decades of development behind them for industrial applications.  We have customers out there that have now made over 100,000 cups of coffee and not had a mechanical failure." said Stephan
Five years later, you can still get a delicious pour-over from the first machine installed in Cafe Grumpy in New York.  There are also now hundreds of Poursteady machines in cafes all over North America as well as high tech corporate offices such as Google and Amazon.   With global expansion already in the most respected cafes and hotels in places such as Korea, Japan, Taiwan, and Mexico City, Poursteady will soon launch in Europe and Australia.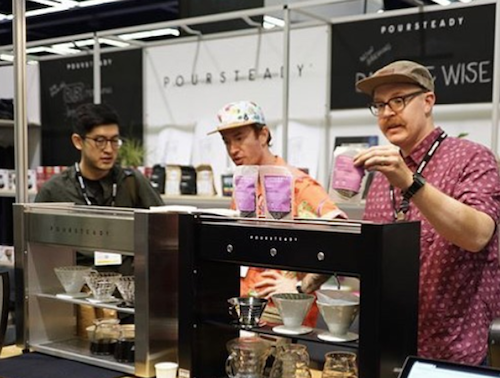 Stephan reflects, "Poursteady honors the art and craft of pour-over coffee while providing the precision, reliability and speed necessary for a commercial coffee environment. By controlling the brew time and temperature precisely with a robot, Baristas can take care of their customers and think about the other aspects of the process, such as grind, roast and recipe, unique to each cup"
The company continues to receive accolades from business and industry notables including Wall Street Journal, Washington Post and Edible Magazine for their unique place in the specialty coffee 'farm to table' movement.
Follow their story on Instagram and find a café with a Poursteady near you on their website.
Products mentioned in this article are manufactured by Poursteady.